DHL Express Tracking
Tel: +1 800 225 5345 | Website: www.dhl.com
Type your DHL tracking number below, get live delivery information with our express tracking system.
About DHL Express

DHL Express is a division of the German logistics company Deutsche Post DHL providing international courier, parcel and express mail services. Deutsche Post DHL is the world's largest logistics company operating around the world, particularly in sea and air mail. Founded in the United States in 1969 to deliver documents between San Francisco and Honolulu; the company expanded its service throughout the world by the late 1970s. The company was primarily interested in offshore and inter-continental deliveries, but the success of FedEx prompted their own intra-US expansion starting in 1983.
DHL Tracking Help
If you have problem with our express tracking system, please track your package directly on the DHL website.
If you get no tracking information from DHL official website, you'd better contact them.
DHL Frequently Asked Questions
What is DHL Tracking Number Format?
The tracking number is assigned to your shipment by DHL, and can be either a 10 or 11 digit number.
Here is a waybill sample which shows the DHL tracking number is 47 1953 9753.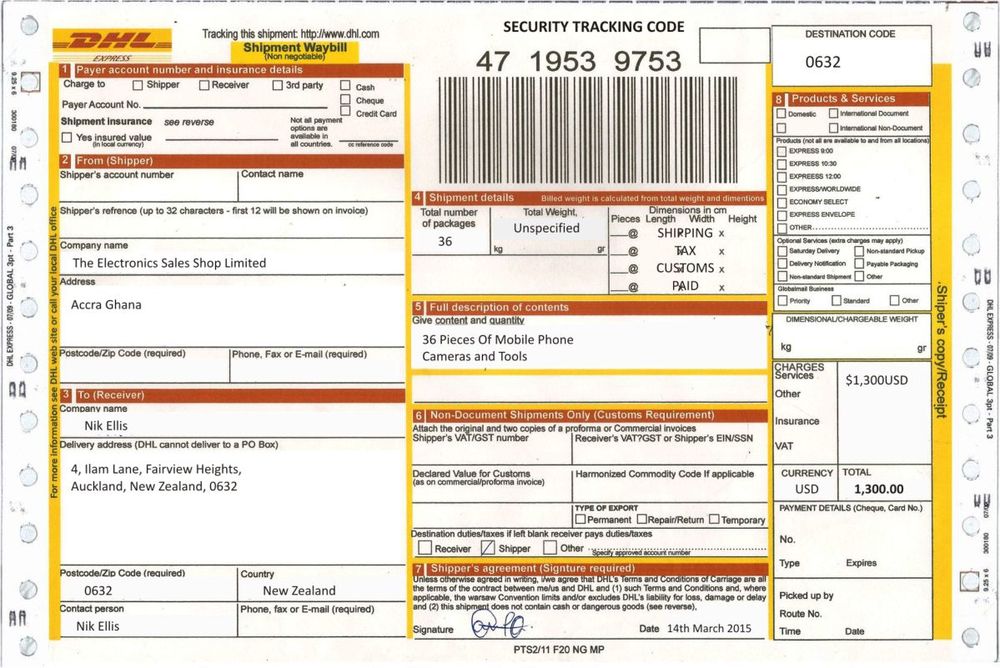 How Many Ways to Track DHL?
DHL's express tracking tools offer you the latest shipment information, in real-time, direct to your PC, mobile phone or handheld device. They are available to all DHL customers, regardless of how shipments were booked or prepared.
Track By Tracking Numbers
DHL uses DHL tracking numbers to identify and trace every shipment as it moves through the DHL system to its final destination. A tracking number for DHL express tracking is automatically assigned when you create your shipment. You or your customer can use this number to:
Determine the current status of your shipment
Verify delivery of your shipment
Access delivery change options
Track By DHL eTrack
DHL eTrack can track up to 50 express shipments at any one time and operates on any email-enabled device, whether it is a PC, mobile phone or handheld device.
Track By DHL Expres SMS
DHL ExpresSMS allows mobile phone users to track the progress of single shipments. Simply text us the waybill number and we'll respond with the status within seconds. You can forward the text to colleagues and customers to keep them in the know too.
DHL ExpressWAP
DHL ExpressWAP allows you to access DHL's service information or track shipment anywhere, at any time, worldwide from any WAP-enabled device.
DHL SpeedTracking
Track up to 5 express shipments at a time from any touch-tone phone and receive reports in an instant anytime from anywhere in the world.